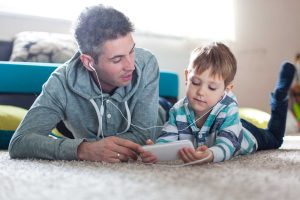 Breaks from your normal life can offer great opportunities for extra fun and relaxed downtime for you and your child with special needs. However, with the coronavirus COVID-19 national emergency dragging on for an untold amount of time, time off can also create challenges for all parents and children. Disruption in your daily routine and an increase in unstructured moments for your child may result in low levels of motivation and higher levels of anxiety and stress. For you as a parent of a child with a disability like autism, these may seem magnified. Below are some helpful tips to help you survive these days during quarantine with your child with special needs.

Keep a Regular Schedule
If you keep your routine close to what it usually is, it may help. Wake up as you normally would in the morning and maintain the same bedtimes. Filling the day hours with activities will provide your child a predictable, structured environment, a sense of stability, and decreased stress. By reducing the amount of unstructured free time during quarantine your child with special needs will be less restless and bored.
Get Outside

You don't have to be around people to be outdoors. Take a walk in your neighborhood (wearing a mask and keeping a safe distance), sit outside on the porch, go for a family bike ride, or drive around and find an open field or less populated area to throw a ball or just run around. This will limit the amount of time during quarantine your child with special needs is at home watching TV, texting, or playing video games. Ideally, an outside activity such as playing ball or going for a walk would be on the schedule daily anyway. Any physical activity has obvious health benefits, and increased exercise helps reduce repetitive behaviors and improve sleep.
Read to Your Child
This would be a great time to dust off the books you've been meaning to read for months. Pile onto your bed or the couch with the kids and have them read their own books during quarantine. There are also lots of online resources to download books, and some are even free. So, even if you don't have the books on hand, you can access them.
Go Virtual with Family
Whether your extended family lives near or far, you're probably avoiding close contact at this point. So, set up a time to call them online. This will not only allow you to check on relatives you don't see every day, but it will give you a sense of community in a time when you feel isolated.
Make Meals Together
We all have foods in the pantry that we skip over when we're meal planning. Challenge yourself (with your kids' help) to use what you have on hand to make a delicious meal or treat. Your kids will love helping you search for new recipes and create something new.
If you need help with more resources, please contact us.
American Advocacy Group is on the front lines every day, making positive change happen for people diagnosed with Autism, Down syndrome and a range of diagnoses across the continuum. As a leading advocate for all people with intellectual and developmental disabilities and their families, and the premier provider of the support and services people want and need, we understand the system and know how to take action in regard to your best interests.
CONTACT US FOR HELP.
Dial (877) 762-0702 or email us at info@americanadvocacygroup.com.