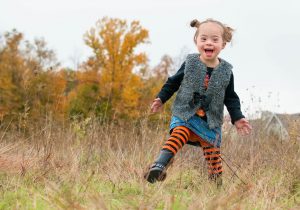 As parents, we know how many responsibilities you have and how your day goes from morning to bedtime with getting the kids to school on time, coordinating their soccer games and singing lessons, trying to get them to eat broccoli for dinner, and making sure they are scrubbed clean and ready for the next day. Raising kids is an all-consuming job.

But what about when you are a parent of a special-needs child?
Most people don't understand the further time and engagement this involves such as the additional scheduling for things like doctor's visits and therapy sessions, as well as the extra time needed to get around place-to-place. Having such numerous commitments can conflict with making the time to create a supportive community for both you as parents and your child.
And even though there are many unique joys that come with parenting, there are also many moments of complete exhaustion and endless worry that caring for a child with special needs can place upon you.
That's why you need a community. Here are some ways to find one:
Talk with other parents within your child's school district, hospital or those working to support your child's disability or need. There are a number of parents out there who feel as you do and who want to connect. Ask a couple of them to coffee while your kids are at school, or set up play dates, if possible.
Consult with online, phone or in-person meeting support groups. If there isn't a meeting nearby or online you prefer, you can also start your own.
Build friendships around your child's interests. There are many organized programs for kids with developmental disabilities where there is a great chance for your child to meet like-minded friends, and for you to also meet others who are facing similar challenges as you.
By connecting with other parents, it may help to relieve some of the stress you are experiencing. The in-person meetings and networking allow for children to interact with peers with special needs as well as, more importantly, others who support and love them for being who they are.
As always, if you need resources, we are here for you.
American Advocacy group is on the front lines every day, making positive change happen for people diagnosed with Autism, Down syndrome and a range of diagnoses across the continuum. As a leading advocate for all people with intellectual and developmental disabilities and their families, and the premier provider of the support and services people want and need, we understand the system and know how to take action in regard to your best interests.
CONTACT US FOR HELP.
Dial (877) 762-0702 or email us at info@americanadvocacygroup.com.